The lion, the fish, and the wardrobe
Welcome to a zone of total insanity.

Well here it is, a brand new location, with my own name in the title. Well kind of my own name anyway. Like it. Hopefully it will work a hell of a lot better then yahoo/geocities. Anyway take a look around, most is the same as the old site, only now you can actually use the links. Great huh?
New fiction in the library, so if you want to go and check it out...
Also big news for me, I've moved to Malaysia, so that is why things have been a little slow to be updated recently.
Page last updated May 20th 2000

Click here to enter my house.

Basically everything. New film, tv and book info. Hopefully some episode synopses, a guide to the paranormal, along with detailed reports, and of course more fan fiction.



fairytoes@hotmail.com


Sign My Guestbook
View My Guestbook

NOTE: to all old signatories, please check because we lost a lot of signatures when the old book crashed, if yours isn't here then please, please sign again.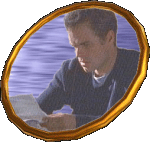 This Martins Fans Webring site is owned by: Fairytoes..

Want to join the Martins Fans Webring?
[Skip Prev] [Prev] [Next] [Skip Next] [Random] [Next 5]
[List Sites]